aka 'New York Pizza Summer Jams'
[Updated for summer 2019]
With Memorial Day in the rearview, it's (unofficially) summer. And though I usually hate when publications peg their content to things that happen every year at a given time (Memorial Day grilling articles are the worst 🙄), I was thinking about a couple recent trips to L&B Spumoni Gardens and what a magical place it is at dusk on a not-too-hot summer night.
So, without further ado, here's SUMMER JAMS, PIZZA EDITION…
L&B Spumoni Gardens
No summer list would be legit without L&B in Gravesend, Brooklyn. With its expansive patio and eponymous spumoni, it is Summer Pizza incarnate. As Nick Solares said, in the best piece of writing on the Brooklyn institution that I've read, L&B is "a rite of passage in the form of pizza." If you've never been, the Sicilian slice is the thing to get. It's what they're known for, and it's a rendition of the style unlike any other—crisp, light, airy and with a unique texture that, not gonna lie, isn't for everyone. You seem like you'd like it, though. Give it a try. And don't skip the spumoni. You've gotta get it. It's in the name!
L&B Spumoni Gardens:2725 86th Street, Brooklyn NY 11223; spumonigardens.com
Totonno's
It's open year-round, but summer is the perfect time to visit Totonno's, especially as part of a day at the beach or at the boardwalk amusements. Totonno's is one of New York's original coal-oven pizzerias, whose simple, minimalist pies are sort of the missing link between the small, austere traditional wood-fired pizzas of Naples and the big, greasy orange rounds we know as New York–style pizza. Head to Coney, bring some friends, and make a day of it, splitting at least a couple pies—so you can try both the red and white varieties here.
Totonno's:1524 Neptune Avenue, Brooklyn NY 11224; totonnosconeyisland.com
Roberta's
Summer is/should be all about slowing down and taking a break from New York's hectic pace. It seems weird to say it, since Roberta's played a huge role in shaping the whole late 2000's "Brooklyn" thing, but I've always felt like the place was a bit alien to New York—at least when it first opened. The first time I visited, it had a distinctly overlooked-mid-tier-city vibe to it. Not in a bad way—but in that way that overlooked mid-tier cities give you room to breathe, create, and not work yourself to the bone to make rent. Hanging out at Roberta's with a group of friends while putting away several pies (and as many drinks) felt like a small luxury, a vacation from New York's punishing pace. And while Roberta's is crowded and loud, I still get that feeling from it when I go. THAT and its sprawling garden with its stoner/Mad Max/survivalist-compound vibe make it a great summer pizza destination.
Roberta's:261 Moore Street, Brooklyn NY 11206; robertaspizza.com
Juliana's
Most of the pizzerias here have an overt outdoor thing going on. Not so Juliana's, unless you count the fact that you'll probably have to wait on line outside for some time. Oh, and the fact that I like to recommend it as a stop before or after walking across the Brooklyn Bridge. I strongly prefer after, because, these days, you'll work up an appetite dodging tourists up on the bridge. In fact, I almost didn't include this one, simply because what New Yorker wants to deal with walking the Brooklyn Bridge? But, then again, there are such fantastic views from the bridge—and not all the readers here are New Yorkers. You can also follow this up with some ice cream from Ample Hills in the old fire-boat house on Fulton Ferry Landing or take a longer walk through Brooklyn Bridge Park to Pier 5, where there's yet another Ample Hills stand.
Juliana's: 19 Old Fulton Street, Brooklyn NY 11201; julianaspizza.com
Fornino at Pier 6 (Brooklyn Bridge Park)
Speaking of Brooklyn Bridge Park (see above), you could always do pizza at Fornino at Pier 6. It's an outpost of the long-running Williamsburg Fornino, which was a pioneer in the wood-fired neo-Neapolitan movement when it opened in 2004 on its original location on Bedford Avenue. (It has since moved to Kent Street and also has a Greenpoint location, too.) Confession: I've only ever eaten at the Williamsburg location, but based on its quality, I feel confident recommending the Pier 6 pizzeria. Even if there's a quality differential, the outdoor/park surroundings would mitigate it. It really is a lovely park.
Fornino at Pier 6: enter the park at the western end of Atlantic Avenue in Brooklyn; fornino.com
Last Dragon Pizza
https://www.instagram.com/p/BjH1ALIjIXk/?taken-by=lastdragonpizza
In the Rockaways, New York's popular beach destination, you can find Nicole Russell's quirky Last Dragon Pizza, which takes its thematic cues from the '85 kung fu movie The Last Dragon, in a couple spots. Russell operates primarily as a semi-secret text-and-pickup service out of the Arverne section of the Rockaways. You text your order, she confirms it and reveals the pick-up location. Info here: lastdragonpizza.com. You could always order some pies, pick them up, then head to the beach nearby. (Russell offers ices from local Nae's Italian Ices, so tack some of those onto your order.) Follow her on social for updates and more info.
Last Dragon Pizza: in the Rockaway neighborhood of Arverne, lastdragonpizza.com
Whit's End
https://www.instagram.com/p/BiMkJraBB1p/?taken-at=287370257
You can't talk about pizza in the Rockaways without mentioning Whit's End. Great pun. Chef Whitney Aycock is known as the "Pizza Nazi of Rockaway Beach," which, true confessions, is part of the reason I've never been—I haven't wanted to subject lil' Margot to his legendary vulgarities. (I know, I know, I've become a prude.) The other part is that I'm lazy and haven't gotten out there. After having moved locations a couple times now after run-ins with landlords, the National Park Service, cops, and squares, Aycock has settled in at a new space Rockaway Beach Boulevard that looks really cool. I'll make a visit later this summer, when the wife and kid leave town and I enter "Pizza Bachelorhood."
Whit's End: 97-02 Rockaway Beach Boulevard, Rockaway Beach NY 11693; whitsendnyc.com
Saraghina
To my mind, it's one of the most gorgeous outdoor pizzas spaces in the city. A vast patio with plenty of cover if it ends up raining. Saraghina: 435 Halsey Street, Brooklyn NY 11233; saraghina.com
Milkflower
I haven't been to Milkflower in a couple years now, and it looks like they may have removed the iconic plymold booths they once had outdoors, which were instantly reminiscent of 1970s pizza joints, but creeping their Instagram reveals that this WFO pizzeria's garden remains as quaint as ever. A great option if you find yourself in Astoria—and given the number of AirBnBs in the neighborhood, a good number of you reading this from outside New York should take note for future visits.
Milkflower: 34-12 31st Avenue, Astoria NY 11106; milkflowernyc.com
Adrienne's Pizza Bar
Stone Street is where NYC puts on its European City costume. It makes a fantastic photo op when the entire street isn't filled with tables à la some kind of German biergarten. And when it is filled with tables and you can eat al fresco, check out Adrienne's Pizza Bar, which makes one of my favorite grandma pies in the city. Fair warning: nearly the entire street, which is closed to vehicular traffic, is occupied by restaurants, so it becomes one giant outdoor dining room. The scene can get crowded and boisterous. But, hey, that's New York.
Adrienne's Pizza Bar: 54 Stone Street, New York NY 10004; adriennespizzabarnyc.com
Graziella's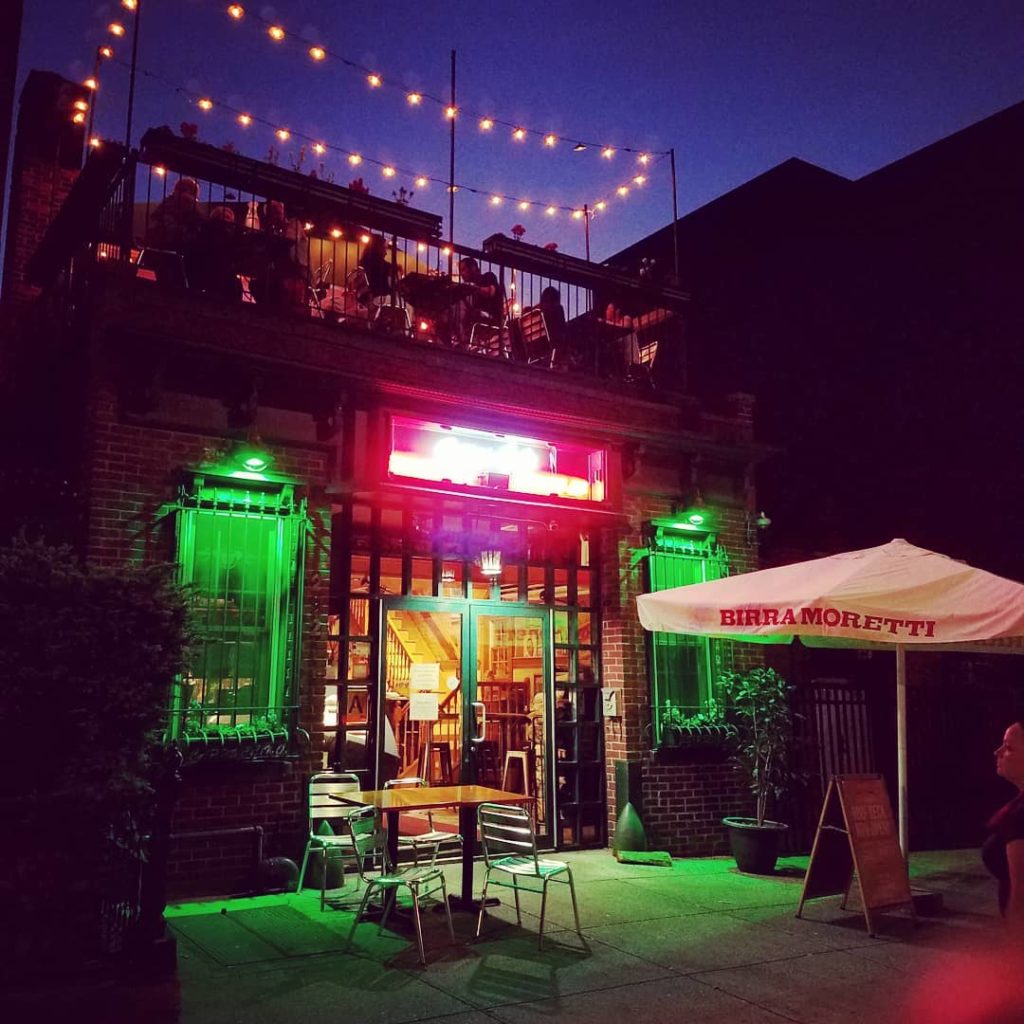 I love the rooftop at Graziella's. Grab some friends, ask for a table up there, even if you have to wait for the primo spot, and spend some time eating their brick-oven pies and drinking something summery—however you define it. Graziella's makes a wood-fired pizza that's not necessarily Neapolitan. Pizza nerds might term it "neo-Neapolitan," which is sort of an Americanized take on the wetter, floppier Italian style. You'll sometimes see it described as "brick oven pizza." Whatever you call it, it's a solid pie elevated all the more by the fantastic perch atop the building.
Graziella's: 232 Vanderbilt Avenue, Brooklyn NY 11205; graziellasmenu.com
---
Thanks for reading, folks. If you liked this post, considering sharing it with a pizza-loving friend. I invite you to follow me on Instagram at @akuban and @margotspizza.
Until next post, hasta la pizza.
—Adam