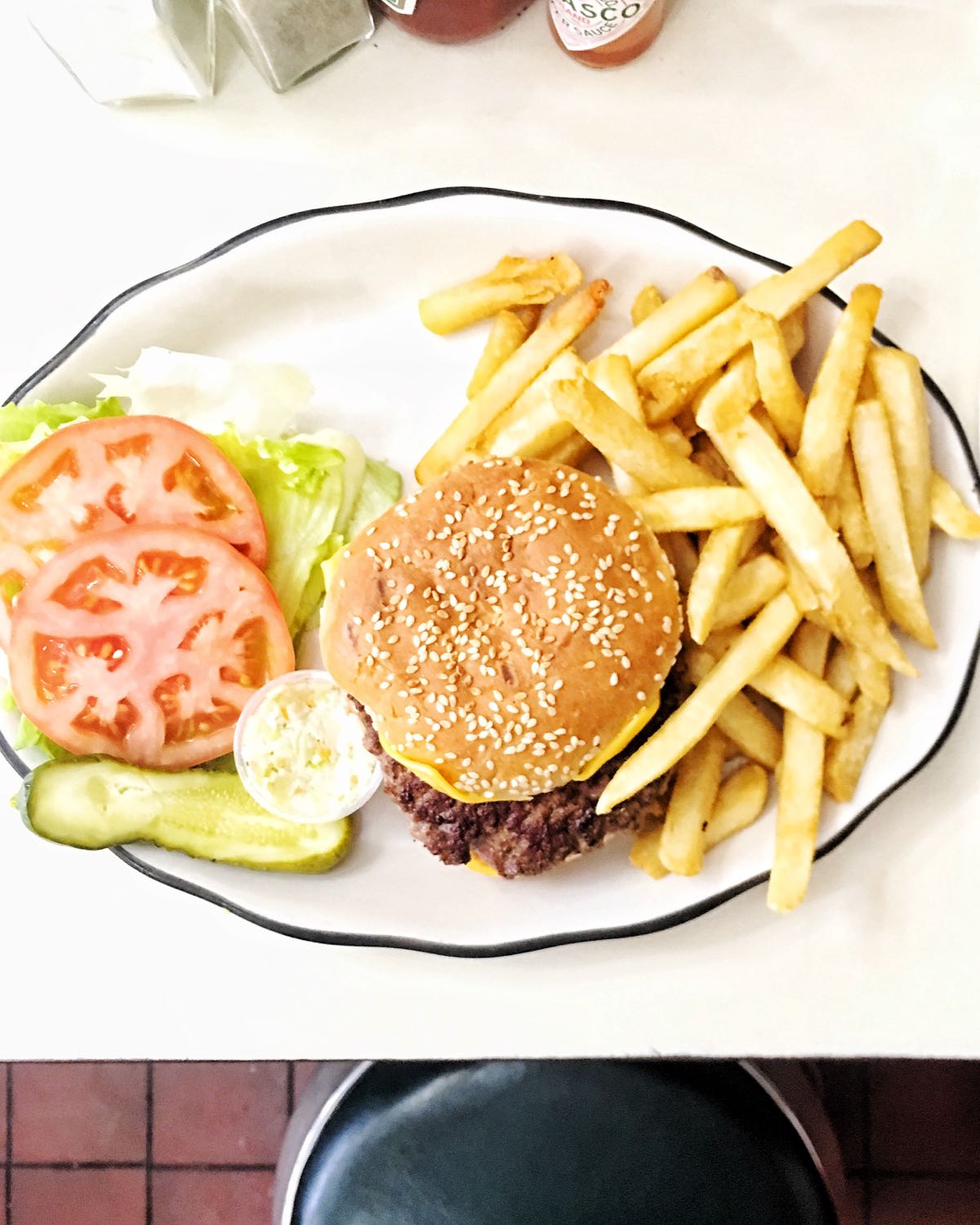 It's always good to have an inside scoop on the things that matter, like burgers (and pizza, of course).
Take Joe Junior's. The first and only time I'd had it before today, I thought it was overhyped and a rare misfire of a recommendation from Nick Solares. (That said, the space was, and is, absolutely charming, so I could see why Nick and others loved it so much.)
But a few weeks ago on his Instagram I saw him mention a crucial factor in ordering it: you have to ask for it cooked with salt and WITHOUT THE PLANCHA, which is the rectangular press you often see on the grill at short-order shops like Joe Junior's. (It doesn't hurt to order it medium-rare, either.)
So I was happy to join Nick yesterday and put this tip to the test at a  celebratory cheeseburger lunch in honor of Nick's first decade as a paid food writer. May 1 marked the 10-year anniversary of his first review for  A Hamburger Today, the burger blog I co-founded in 2005 as a sister site to Slice before selling both to Serious Eats. Nick's first review for us was of Joes Junior's cheeseburger, and, of course in looking it up, I now see that he mentioned cooking it sin plancha from the start.
Cooked properly per Nick's expert tip, the burger at Joe Junior's is fantastic. Thick, juicy, flavorful. A paradigm of a diner burger. I never should have doubted him.
I honored Nick's recommendation to try it "commando" style, sans toppings or condiments. And even though it was supremely satisfying, I couldn't help but wonder what it'd be like with my favorite accouterments—pickles, a slice of raw onion, and yellow mustard on the side for dipping. Next time.
Until next post, folks … happy burgering. 😊🍔✌🏻
Joe Junior: 167 Third Avenue, New York NY 10003; 212-473-5150; no website
UPDATE: A friend slides into my IG DMs:
I just don't understand this celebration of Joe Jr. I've had the burger, not sin plancha, but I'm mystified by the love it gets. This to me is not like going to New Park and asking them to cook the slice a little longer. That would be a conversation about doneness. This is telling a place to use a different technique than they actually typically use on a menu item.

Did I miss anywhere on the menu where it offers this as an option? Would you go to any other restaurant and tell them to use a different technique to cook the item than they normally do, a steakhouse, say, and ask them to sous vide your steak before searing it, and then write a positive review about it? I just don't get this at all. It drives me crazy.
I had never thought about it that way, but… food for thought.