I almost let the day go by without noting it, but today's the 20th anniversary of Slice, the pizza blog I founded back in the early days of what was sometimes known as as "the social web." This was 2003, so it was pre–social media as we know it, but blogs, with their comment sections, blogrolls, and "trackback" links, jumpstarted the idea that anyone could publish and that audience interaction was expected and welcome.
Look how great that's all turned out! 🤣🫠🤦🏻‍♂️
My early inspirations for Slice were the photocopied 'zines of the 1990s and the blogs of the early 2000s—most notably OG Gothamist, which chronicled and commented on a wide range of NYC events, culture, and news with an enthusiastic and idiosyncratic POV.
When I first moved to NYC in June 2000, I was already a pizza hound, and I was surprised there was no dedicated "fan page" for NYC pizza—there seemed to be weird little fan webpages for bands, celebs, etc. And, yeah, sure there were sprawling pizza threads and heated discussions on forums like Chowhound and eGullet, but not a page dedicated solely to (NYC) pizza. I guess Slice was me being the change I wanted to see in the world, lmao.
For the first few years I lived here in NYC, I collected newspaper and magazine clippings about pizza—the various "New York's Best Slices" lists in New York magazine, Time Out, and the Village Voice; "Pizza 2002: the State of the Slice," by Ed Levine in the New York Times. I'd use them as roadmaps to pizza exploration—supplemented by the knowledge and guidance of a coworker at the time who wrote for Slice under the nom de blog "Seltzerboy." (I met him while working at Martha Stewart Living, and he was the one who introduced me to Di Fara, where we'd often go on weekends back when its fame was largely limited to the zealots on the Chowhound NYC boards.)
And then in 2003, when Gothamist and Gawker and countless other New York–focused blogs and photo blogs sprang up, I knew I was looking at the solution to my distribution problem.
See, I'd first conceived of "Slice" as a photocopied 'zine when I lived in Portland, Oregon, in the late '90s. (The prototype issue was square, with a cover designed to look like a pizza box. I wish I'd kept it!) But I quickly thought things through and realized there was practically zero market for a 'zine about pizza in a city that had yet to become the amazing pizza destination it currently is. So I shelved that idea and went about my life.
Blogs, though, weren't limited by how many photocopies you could afford and how much time you had to collate, saddle-staple, and drop-off issues at whatever venues you could convince to carry them.
And so, on October 13, 2003, SliceNY dot com* went live. 👈 I purposely didn't link to it just now. It doesn't exist anymore. It's been lost to the digital ether after having been sold a couple of times over the years—first to Serious Eats, which I helped founder Ed Levine launch in 2007 after coming aboard as its first editor—and then to the various corporate entities that bought Serious Eats in the intervening years.
So, even though Slice no longer exists, I still count October 13 as my blogaversary. I've been blabbing about pizza in some form or another, in various media, on a multitude of platforms, in fits and starts, for two decades now. In that time I've met a lot of great friends (many of them through blogging!), have gotten married, had a kid, learned to make some decent pizza, did a pizza pop-up, and have kept a finger on the pulse of pizza news, though a fairly lose grip as of late. I've had the pleasure of getting to know so many people from around the USA (and even the world!) all with a common love of food—whether they were Slice readers from the OG days, Serious Eaters, chefs or pizza makers from all the writing and research over the years.
Slice changed my life in ways profound and practical. It brought me new friends, gave me confidence in my writing/editing, paid off credit card debt, and eventually paid for a kitchen renovation.
At year 20, I don't know if you could say I'm still "active" as a pizza blabber. Maybe I'm semi-retired, IDK. Between work and family life, I don't have a ton of free time to tackle pizza exploration and gather and disseminate the type of content today's internet demands. And, to level with you, being as online as I used to be—about pizza or anything—just isn't fun or all that rewarding and actually can get pretty toxic and bad for my mental health in general. I started this "secret blog" here as a platform of my own, independent of the big social media companies, to house various thoughts, recipes, pizza guides, and the like, mostly in response to people asking for those things in emails, DMs, etc. I was hoping to update It's Pizza Night more regularly, but it's been a struggle. It is what it is. Trying to force content to keep up with a publishing cadence kinda sucks the joy out of it.
All that's not to say I'm turning off the oven or blowing out the Venetian candle on this anniversary or anytime soon. I've still got a bunch of video and photos and notes I'm sitting on and and excited about posting.** So watch for that. In the meantime, I'm posting some photo highlights from over the years. Enjoy.
---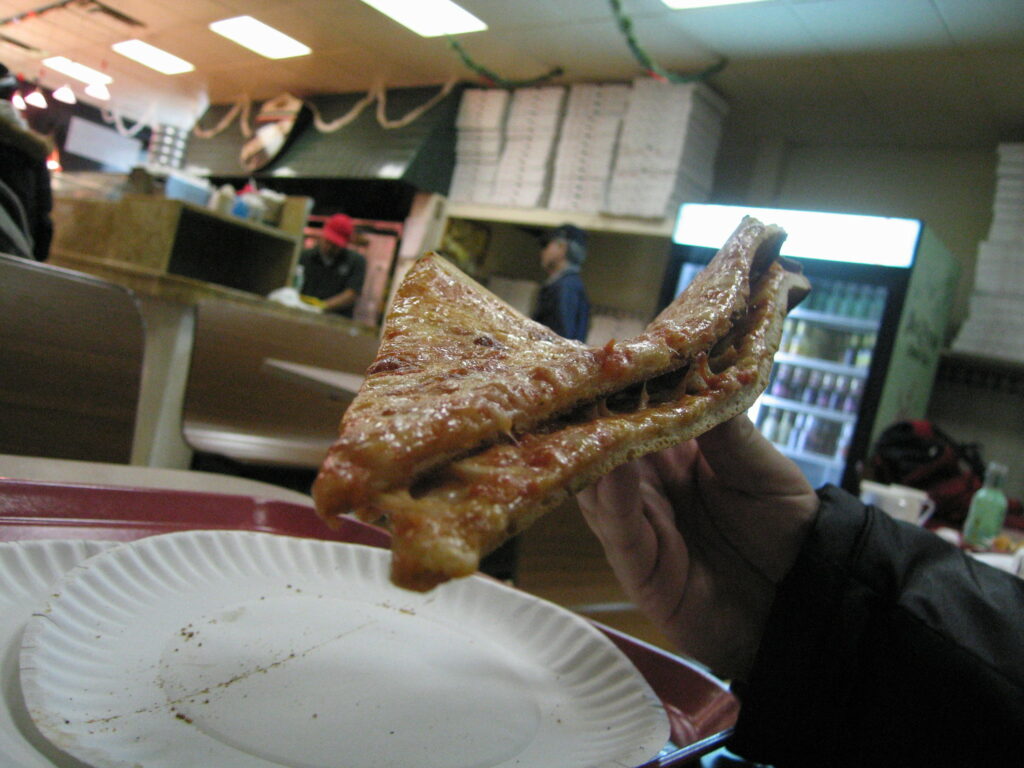 ---
*The blog's official name was always Slice. Just Slice. But Slice dot com was taken and, IIRC, so was SliceNYC. So SliceNY dot com it became. It always grated on me to hear people call it "Slice en why." After I sold it to Serious Eats (along with A Hamburger Today), it continued to exist and publish as SE's pizza vertical until the powers that be there streamlined things and did away with the various sub-brands, including Slice, A Hamburger Today, Serious Drinks, Serious Eats Desserts, etc. For years you could still find Slice content via search—and many of the old links would redirect to the corresponding Serious Eats page, but in the latest sale to DotDashMeredith, they scrubbed all the low-performing content, so not much is left. I know some longtime readers DM every now and then in anger on my behalf, but I've made my peace with it. In some respects I'm sad it's gone. I've always said that I've never wanted or needed to write a pizza book because Slice existed. I'd always viewed that body of work as a snapshot of pizza culture in a certain place and time and thought it was a unique record and contribution to the pizza landscape—much more so than what I'd have been able to do with just another pizza guidebook or cookbook. So the fact that it's gone erases that legacy. But, just looking back at the poor quality of these old photos and remembering some of the inane stuff I wrote about there, maybe it's for the best. [Footnote to this footnote: I'm talking only about the stuff I wrote. During Slice's heyday, we had a lot of great contributors who did some amazing pizza reviews and pizza journalism. That stuff, I wish was still available.]
Also, regarding the name, I'm kinda salty about the fact that I have to retroactively refer to the blog as "Slice en why dot com" ever since the Slice pizza-ordering app came around. I refer to SliceNY less and less frequently as the years go on, so it's not like it's a huge issue, but there ya go. Happy for them that they seem to be doing well and are helping provide small pizzerias what seems to be a pretty fair ordering platform, from what I understand from talking to owners who use it.
**Notably the second half of my Chicago trip earlier this year and some other stuff I've shot around town here in NYC.