Every year I compile a year-end list of memorable pizzas I've eaten in the past year. I'm coming in just under the wire, close to midnight here on December 31. As is always my caveat, these are all pizzas I ACTUALLY ATE AND THAT MADE AN IMPRESSION ON ME. so if your favorite isn't here, I either didn't eat it or it didn't haunt my dreams. Without further ado…
Sofia Pizza Shoppe (Sutton Place, Manhattan, NYC): spinach dip slice

Didn't think I'd dig what I'd pegged as a novelty slice, but, dang, this slice works! Not a gut-punch at all, the way you'd imagine a "spinach dip" slice might be. Heck, if I could make it at home, it might even pass muster with my wife as enough vegetable to balance out our usual Pizza Night dairy overload.
Nick's Pizzabar (Various Manhattan locations, NYC): 'old fashioned' pie
I mostly end up at the Rockefeller Center location, but the pie above is from Nick's Kips Bay place. I still rank their sister pizzeria Adrienne's Pizzabar's "old fashioned" pie a bit higher, but Nick's is great, too, and is near my Midtown office for lunch. It's one of the best grandma style pizzas I've tried.
Corner Slice (Hell's Kitchen, NYC): classic grandma slice
Speaking of grandma-style pizzas, Corner Slice was pretty nice, and I keep meaning to get back. Only tried it the once, but now that i have a Citibike membership again, it just became infinitely more easy to scoot over to the West Side on lunch breaks.
Mack's Pizza (Wildwood, NJ): sausage and onion slice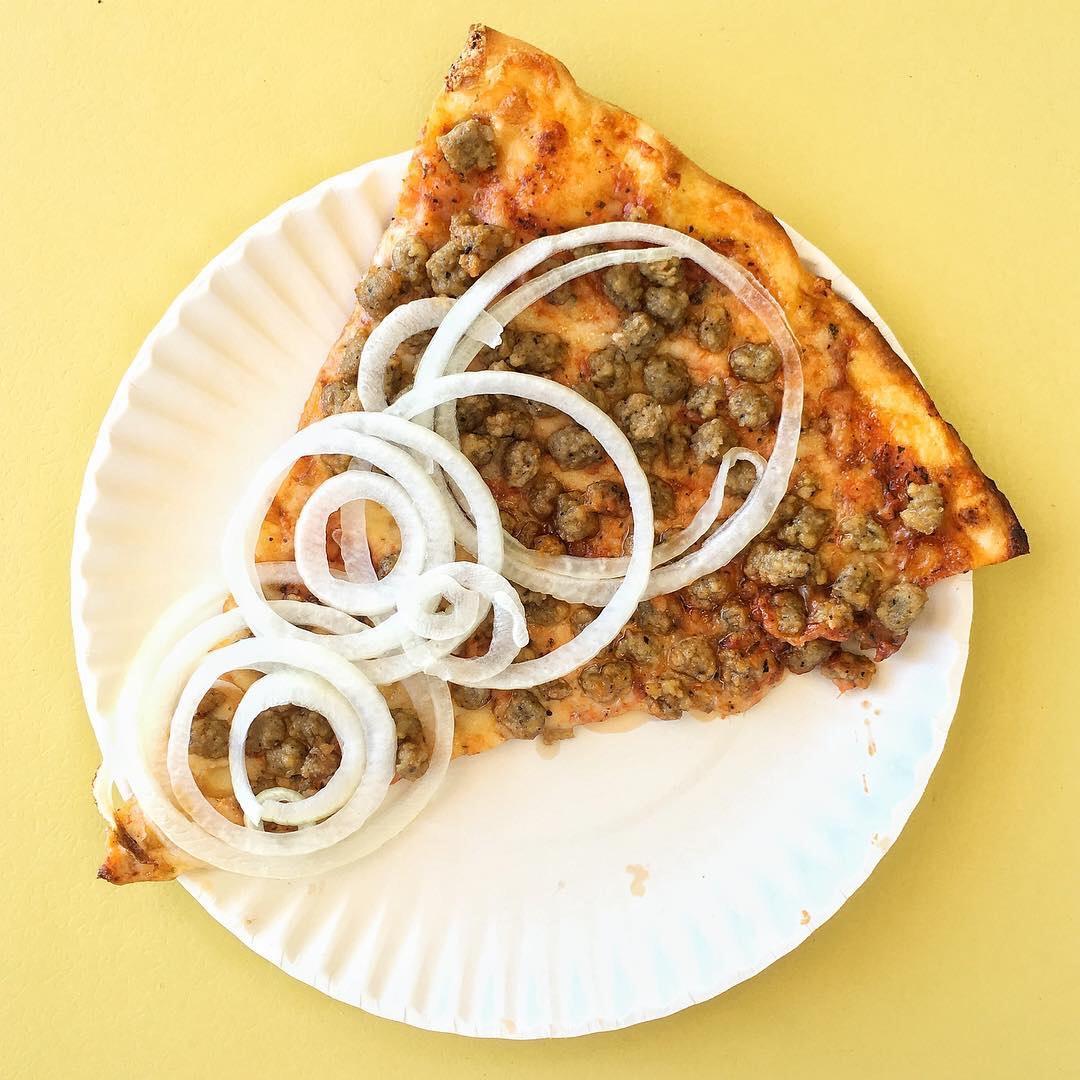 OK, this is here mainly for the post-oven raw onion slices, which are a spectacular pizza topping. i also kinda love these weird sausage pellets every once in a while. They're total corporate-food-service-grade "we DGAF about this topping but you people keep asking for it so sure here you go" fare, but they have a weird Chuck E Cheese flavor to them that trips my nostalgia circuits. But again, this is here for thr onions, which were a revelation. Also, Mack's underlying plain slice is just fantastic.
Pizza Head (Saint Louis): plain slice
Scott Sandler's NY-style slice joint in St. Louis proves you can make a great all-vegetarian menu work. I had a memorable couple slices here on a whirlwind road trip from KC back to Queens.
Dani's House of Pizza (Kew Gardens, Queens, NYC): pesto slice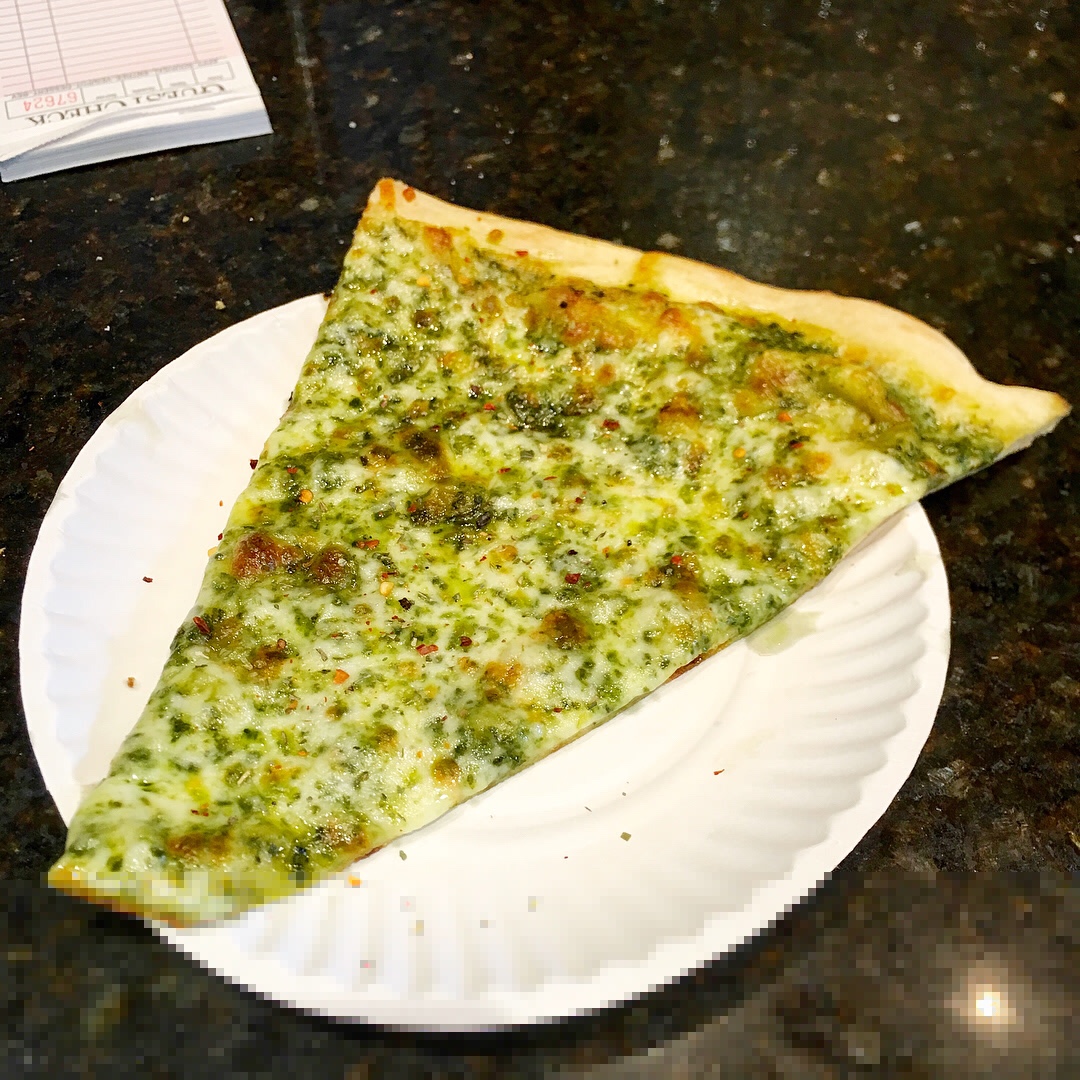 I am hashtag-blessed that this place is actually walking distance from our apartment. I just need to zip over here more often for the pesto slice.
Marinara Pizza (Upper East Side, NYC): Sicilian slice with pepperoni
Cupping pepperoni on a light, crisp Sicilian base. That almost speaks for itself, right?
Delmar Pizza (Sheepshead Bay, Brooklyn, NYC): plain slice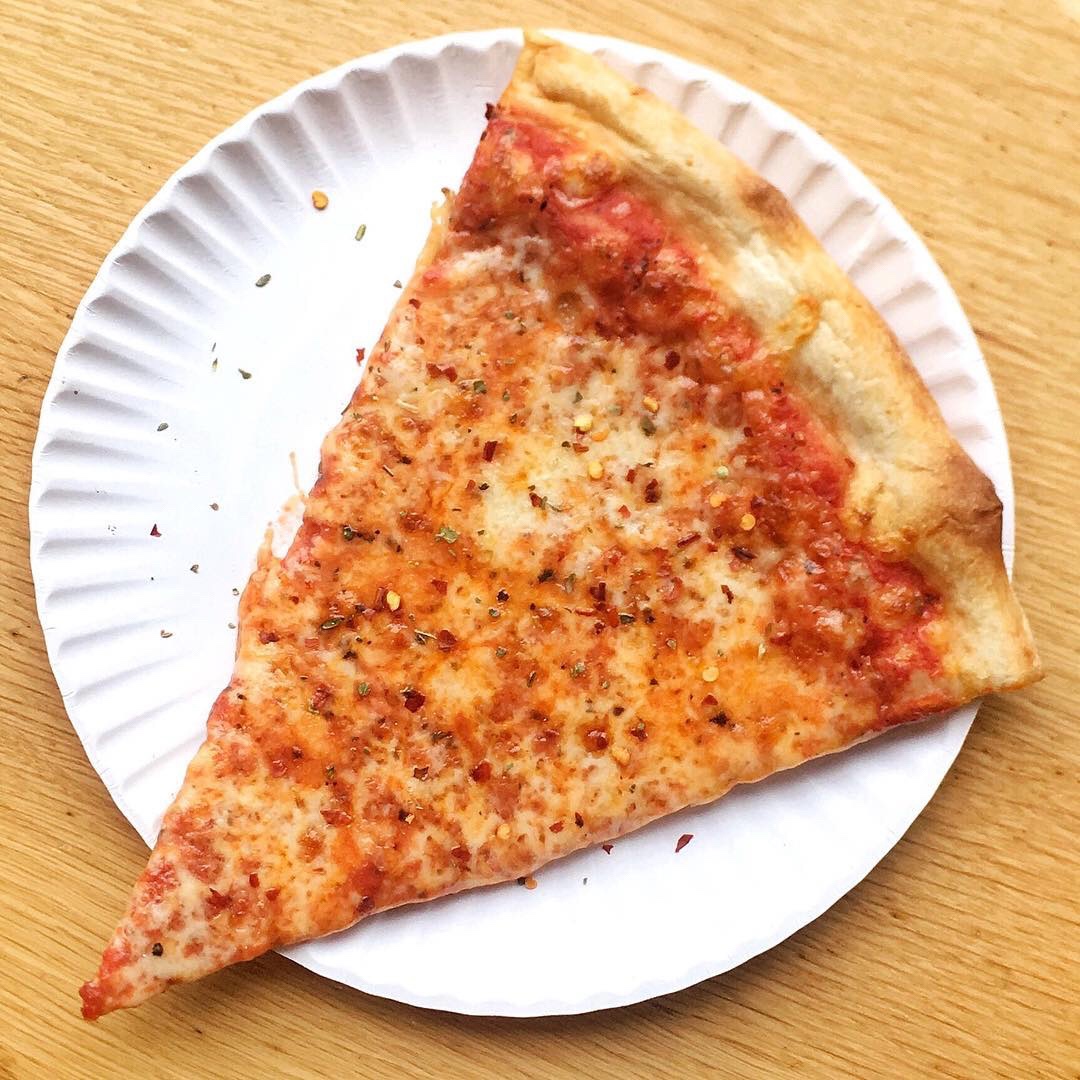 Finally got my butt out here. Straight-up classic Brooklyn slice.
Not pictured (due to less-than-ideal lighting conditions)
NY Pizza Suprema's mushroom ricotta white slice with honey: Joe Riggio, who remembers me from Slice, basically sent out a pizzeria's worth of slices when my parents and I rolled up as they arrived in town via Amtrak in early December. Suprema is not only one of the best pizzas in NYC, it's conveniently located outside Penn Station and MSG for all those times you're in the 'hood for travel or sports or concerts. One slice thatbhit our table that I keep thinking about was this increibly good white slice with 'shrooms, honey, and ricotta. I usually hate white slices, but this one is primo.
Emily Greenwich Village's New Haven-y style round pies: These pizzas are thinner than those at the original location in Clinton Hill and are a tad more crisp and a bit more "old school". i cant help but make New Haven comparisons.
Places I've had on my list forever and resolve to visit in 2018
Looking back at my pizza year on Instagram is kind of a bummer. My pizza resolution for 2017 was to travel farther and wider and unique-r than I did in 2016, which was also a low point in pizza exploration for me. I failed that resolution in 2017. It was a long, frustrating year for various reasons, and even the joy of pizza did little to lift my blue moods or give me much hope. For 2018, though, I hope to find some pleasure in visiting these places, which are all within striking distance of a day- or weekend trip.
Razza, Jersey City, New Jersey
Norma's Pizza at Root's Country Market, Manheim, Pennsylvania
Pizzeria Beddia, Philadelphia
Paulie Gee's Slice Shop, Greenpoint, Brooklyn, NYC (when it opens)
Pizza Moto, Brooklyn, NYC
Speedy Romeo LES, Lower East Side, NYC
Lynwood Cafe, Randolph, Massachusetts
Brooklyn Square, Jackson & Manalapan, New Jersey
Pizza Gutt, Philadelphia
And a bunch of others around NYC, too numerous to mention, as well as a bunch of thin-crust/bar-pizza places in Central Jersey that have been eluding me…
Until 2018, folks, hasta la pizza.
Previously
8 Pizzas That Haunt My Dreams: 2016, 2015, 2014, 2013, 2012, 2011, 2010, 2009